Frequently Asked Questions
What are the system requirements for this screensaver?
You need a PC with any MS Windows to run Endless Slideshow Screensaver. No additional modules or downloads is required. You'll need about 6MB on your hard disk to install the screensaver and more space if you're going to let it download wallpapers.
Is it compatible with Windows 11?
Yes, Endless Slideshow Screensaver runs perfectly on Windows 11 as well as on any other Windows version that is officially supported by Microsoft.
How to set auto-start timeout for the screensaver?
Auto-start timeout for any screensaver is configured in the Windows Screen Saver Settings window. The easiest way to open this window without going through a lot of clicks is to use a shortcut in the Endless Slideshow Screensaver folder of Windows Start Menu. The text of the shortcut is Open Windows Screensaver Settings.
This is where you can set the number of minutes in the Wait field.
What is the maximum number of pictures in the slideshow?
The number of pictures in the slideshow is NOT limited! We tested the screensaver with more than 30,000 pictures - it worked just fine.
How can I turn off wallpaper download and view pictures from my PC only?
Open screensaver settings window (you can do it from Windows Start menu) and select Wallpapers from Internet tab. Then clear the Download wallpapers of all selected categories and Show downloaded wallpapers boxes, just like shown on this screenshot:
Now you can select My pictures tab where you can choose local or network folders with pictures to include in the slideshow. Step-by-step- tutorial: My photos slideshow.
What are the differences between free and Pro version?
You can find complete list of features available in both free and Pro versions a Upgrade to Pro page.
How to show only a folder name instead of full path for the current photo?
You can view and modify all overlay text in the screensaver settings, Text section of the Viewer tab.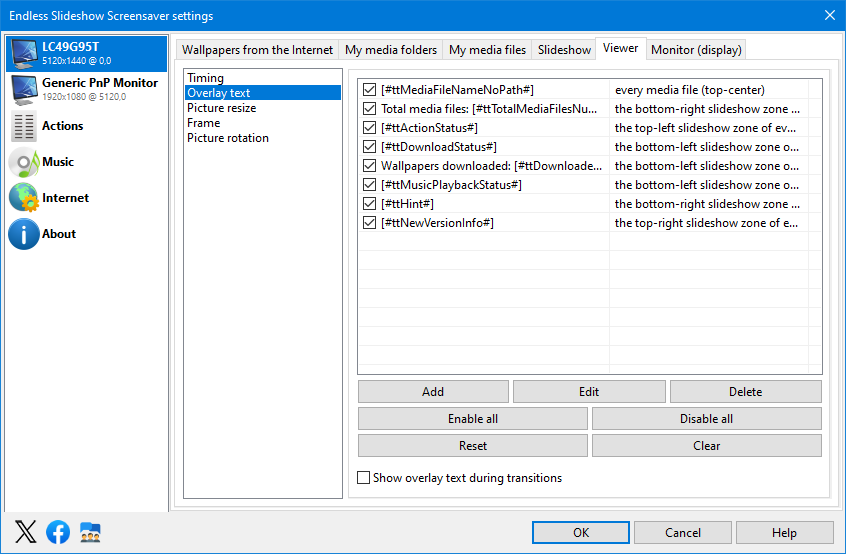 Endless Slideshow Screensaver uses tags to show image-related information. Tags are pieces of text inside [#tt...]. During the slideshow they are replaced with the actual values. And you can combine them with your own text, just like show on the above screenshot. Take a look at the first text in the list:

Total pictures: [#ttTotalPictureNumber#]

During the slideshow the [#ttTotalPictureNumber#] tag is replaced with the actual number of pictures in the slideshow. So, if you want to show the folder name of any currently shown picture instead of the full path - select the text with [#ttPictureFullFileName#] tag and click Edit button. It opens the text editor window.
Now clear the Text field, select Current picture folder name in the Special tag list and click Insert special tag button. That's it!

If you plan to show more than one picture per monitor then it will be better to choose Picture Top - Center instead of Screen Top - Center in the Alignment list.
Where downloaded wallpapers are saved?
The name of the folder where all downloaded wallpapers are saved is shown in the screensaver settings, on the Internet tab. There is a section called Save downloaded wallpapers into this folder. You can easily choose another folder using the Select... button next to the folder name field.
Can I start the screensaver manually, just like any other application, without waiting for the timeout?
Yes, you can. Simply open Endless Slideshow Screensaver folder in Windows Start Menu. You will see the shortcuts to start the screensaver, open screensaver settings window and open standard Windows Screensaver settings window where you can set screensaver the auto-start timeout.
How do I execute custom command line with currently shown pictures?
Endless Slideshow Screensaver allows to configure up to 5 different command lines and run them with currently shown picture file names when the slideshow is running. Here is a tutorial: execute custom command lines.
How do I turn Endless Slideshow Screensaver into sexy screensaver?
Here is a step-by-step tutorial showing how to make Endless Slideshow Screensaver work as a sexy screensaver.
How to add music to my photo slideshow?
Please find the step-by-step tutorial showing how to add music to the slideshow here.
If you have any other questions about Endless Slideshow Screensaver - please write us or visit the Endless Slideshow Screensaver forum. We will be happy to help!